Winter is the worst time of year for colds, flu, and potential complications like pneumonia.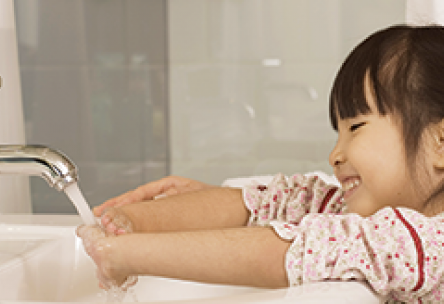 Winter is the worst time of year for colds, flu, and potential complications like pneumonia. To avoid illness and take care of yourself if you get sick, use these tips from Barry Ziring, M.D., a primary care doctor at Thomas Jefferson University Hospital in Philadelphia.
Wash your hands often
One of the most important things you can do to stay well this and every season is to wash your hands, Dr. Ziring says. The Centers for Disease Control and Prevention recommends scrubbing your hands with soap and water for at least 20 seconds, or about the time it takes to hum the "Happy Birthday" song twice. Remind kids to wash their hands, too.
Get your flu shot
The best way to protect yourself from getting the flu is by getting your flu shot. Luckily, it's not too late to get one. And as an Independence Blue Cross member, you can get a flu shot at no cost to you when you go to a participating in-network doctor, retail health clinic, or urgent care center. Go to ibxpress.com to find a provider near you.
Ask about the pneumonia shot
The flu is also a common cause of pneumonia among:


Children 5 years and younger


Adults 65 years and older


People with asthma, lung disease, heart disease, diabetes, or other chronic condition


People who smoke


 
If you or someone you care for is at higher risk of pneumonia, ask your doctor about the pneumonia shot.
Don't be afraid to call your doctor
If you experience a high fever, a sore throat, heavy breathing, or dizziness, call your doctor, Dr. Ziring says. If you have a chronic condition, call your doctor at the earliest sign of sickness.
Know when to go to urgent care or the ER
If you need immediate care or your primary care doctor isn't available, you have options. Retail health clinics and urgent care centers are a great option for illnesses or injuries that require immediate care but aren't life-threatening. You don't need an appointment, and they often have night and weekend hours. Most are equipped for winter illnesses and will refer you to the emergency room (ER) if necessary. "If you have trouble breathing, chest pain, or shaking chills that don't stop, you should go directly to the ER," Dr. Ziring says.
Medicate wisely
Antibiotics may seem like the right answer for a winter illness, but sometimes they can do more harm than good. They won't help if you have a cold or the flu, but they can treat conditions like bacterial pneumonia. That's because colds and flu are caused by viruses. Antibiotics only treat illnesses caused by bacteria. Plus, taking antibiotics when you don't need them increases your risk for getting a bacterial infection that can't be treated by drugs in the future. Your doctor is the best person to decide if you need a prescription medication. If your doctor prescribes medication, follow directions exactly.
Rest and stay home
For many winter illnesses, like a cold, the best treatment is rest, clear fluids, and over-the-counter (OTC) medications to relieve symptoms, Dr. Ziring says. Talk to your doctor or pharmacist about the right OTC medications, especially if you have a chronic condition. In general, it's a good idea to stay home until you've recovered so you can feel better faster and avoid spreading the illness.

Need Medical Care?
If you think you have a life-threatening illness or injury, go to the emergency room right away. But if you have a less serious health issue, an urgent care center or a retail health clinic can often give you the medical care you need while saving you time and money. Learn more about your care options at ibx.com/urgentcare.