These six smartphone apps will help you get motivated — and see results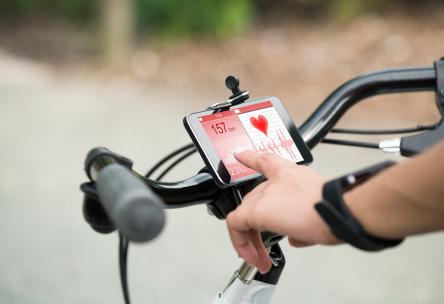 Research shows that people who use exercise apps are more likely to work out during their leisure time, and more likely to have a lower body mass index than those who don't use workout apps. If that's incentive enough, there are also apps that apply to fitness more broadly — helping you track nutrition, sleep habits, and mental well-being. The main benefit of these aids is that you'll up your awareness level and tune in to your body more, which can have big health benefits. Read on for a list of top-rated apps to try.
MyFitnessPal
Counting steps and calories, this app has a clear interface that makes it easy to keep track of your daily habits. Use the bar code nutrition scanner to take inventory of what you're eating per a database of more than 5 million foods, and let the recipe importer save information on your favorite go-to dishes.
Sleep Better
The name says it all, right? This app tracks how long you sleep each night, and it partners that information with what you tell it about your daily life. How much (and what) you eat, as well as any alcohol or caffeine you're consuming, can affect the quantity and quality of your snoozing hours. A level deeper than apps that simply track slumber, Sleep Better helps you figure out how to connect your daily habits to your sleep quality, which is hugely valuable information because everybody is different.
Qinetic
With video classes that run the gamut from yoga to Zumba to intense HIIT workouts, Qinetic lets users work out exactly when and how they choose. You can join live classes with a favorite instructor if that's your thing, or view on-demand videos on your own time. "People love it because they love the emotion that these coaches are bringing into it; you get the same motivating and energizing experience that you would from actually being in the room with the instructor," says Qinetic co-founder Eric Brody.
Lose It!
With this classic app, you can set a goal, track your food and movement on an easy-to-view graph, and connect with others who support your journey and have goals of their own. Renata Shiloah, MS, RD, CDN, advises all her clients to download this one. "It helps them get better results," she says. Part of the beauty of Lose It! is its simplicity: To reach your goal, just stay at or below your daily calorie allowance. In addition to manually entering meal info or scanning bar codes, Lose It! users can now snap photos of their food to let the app determine what it is and its caloric value.
Insight Timer
There are many studies on meditation, and researchers from Johns Hopkins University looked through nearly 19,000 of them and found that there is evidence that mindful meditation does indeed help ease anxiety, depression, and pain. Insight Timer is a free meditation and mindfulness app that offers lots of choices that both beginners and seasoned practitioners will appreciate. With 8,000-plus guided meditations and more than 1,000 musical meditation tracks, every user can find a voice that speaks to them or a tune that resonates. Alternatively, you can use the timer to meditate silently, and you'll be roused from your deep state by the chiming of a gentle bell.
 Charity Miles
Every day as you move, this app helps you earn money for your charity of choice. When you launch the app and choose a charity, that organization will earn money for every mile you go (25 cents per mile walked or run; 10 cents per mile biked — donated by corporate sponsors of Charity Miles that want to do social good). Whether you're strolling to work, biking around the park, or going for a jog, tracking your movement with this do-good app just might put a little more pep in your step!