Feeling down? Here is why you should try virtual care 
Seeing a therapist virtually can help as much as in-person care.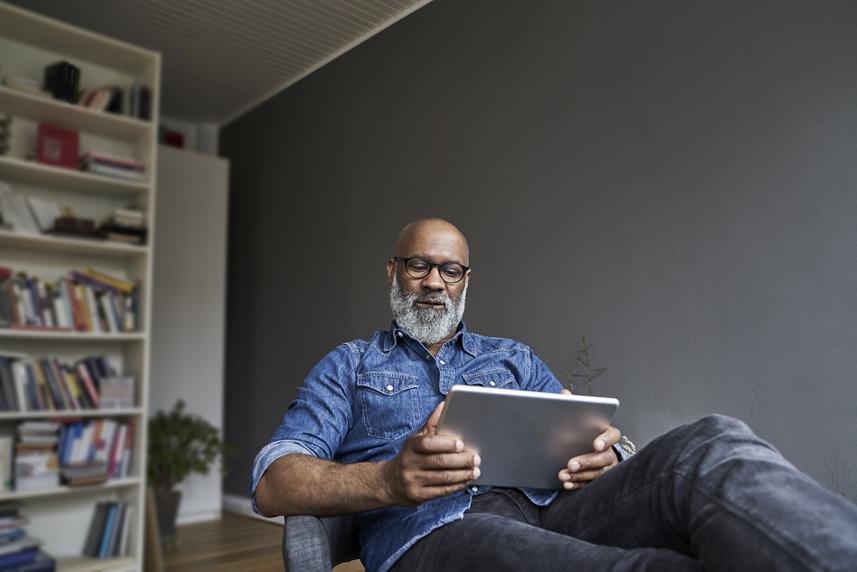 Virtual care allows you to get help for your behavioral health from the comfort of your home. Getting online help for behavioral health issues can be just as effective as in-person therapy.
 
"It really comes down to our mindset and how we choose to perceive the differences between virtual and in-person therapy," Nicole Lipkin, Psy.D., a clinical and organizational psychologist, and the owner of Equilibria Psychological and Consultation Services. Virtual care provides you access to care when you need it, but therapy in any form is only as effective as you allow it to be, she adds.
Here are just a few of the benefits of talking with a trained behavioral health professional —virtually or in person.
1. Therapy can help you organize your thoughts
Whether in person, on the phone, or through a video call, talking about things that worry or upset you helps to release those thoughts from your brain so that they don't accumulate (and possibly grow stronger). Talking openly with your therapist can help release this buildup over time, according to Dr. Lipkin.
Of course, your problems won't disappear after just a single therapy session. But you may feel a little clearer and lighter from talking with someone. Clearing some mental space can help prepare you to handle any stress that comes your way, Dr. Lipkin notes.
2. You will gain a fresh perspective
Talking about your problems with someone you trust may help you realize that some issues might be easier to address than you thought. You may even find that smaller problems are really masking a much larger issue.
Your therapist can help you clarify what's troubling you and then help you work through or problem-solve your issues. "I like to equate therapy to a to-do list," Dr. Lipkin says. "When you keep a busy to-do list in your head, it can become overwhelming. But when you start talking [about] it out loud or getting it on paper, you start to realize what's urgent versus what's not and begin to have a plan on how to make it more manageable."
3. The way you think will be challenged
It can be easy to develop negative thoughts and have them play in our minds over and over. Therapy can help get these thought patterns unstuck. It allows someone else to really challenge us on the way we think, the way we feel, and the way we're putting our thought processes together.
Make the most of your virtual care sessions with a behavioral health professional
Here are a few ways you can make your virtual therapy sessions a success.
Step 1: Keep an open mind
Even if you're skeptical about virtual care, it's important to go in with a positive mindset. "The bottom line is, if you have this mindset that virtual care isn't going to work, or that it's secondary to in-person therapy, then it's going to feel that way," Dr. Lipkin says.
Step 2: Change your environment
"One of the things that's so nice about in-person therapy is that it's a change of environment," Dr. Lipkin stresses. Pre-pandemic, leaving your home or office and visiting a different location for an hour was often just enough of a much-needed mental break.
Simulate the sensation of visiting your therapist's office by doing your session in a different room. Or, if you have a small apartment, try moving to a different corner or rearranging nearby furniture.
Step 3: Communicate with your therapist
If you are feeling fatigued or upset, it can be helpful to communicate that with your therapist. This will help your therapist to read your mood and energy. According to Dr. Lipkin, sharing your emotional and physical feelings with your therapist helps them help you. Telling your therapist what they cannot see beyond a screen is really useful, so they can meet you where you are and help you get the most from your session.
Also, ask your therapist about alternatives to video calls if you would prefer to be away from a screen. "You can do [your session] on the phone and go for a walk, so long as there's privacy," Dr. Lipkin says.
Sharing this kind of information with your therapist can help make your sessions more effective and enjoyable.
Though it may be slightly awkward at first, once you get used to it, you may find you prefer the ease and convenience of accessing behavioral health care virtually.