What it is and how to use it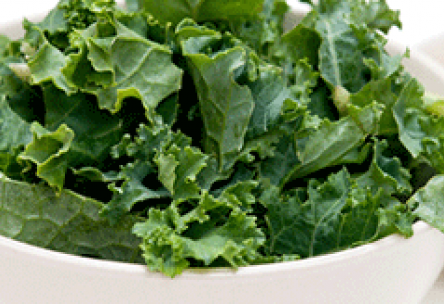 We bet you've heard the buzz about kale, but it's more than a fad—it's a standout leafy green. "Vegetables are trendy right now," says Liz Weiss, MS, RD, coauthor of No Whine with Dinner. "And kale has become more popular because folks know it's packed with great nutrition."
As the overachiever in a family that includes cabbage, collard greens, broccoli, and Brussels sprouts, it's no wonder this veggie has established such a reputation for itself so quickly. Kale offers about twice the calcium and magnesium, a third more iron, and 12 times the vitamin A of its more popular cousin broccoli. Plus, it's a good source of other essential nutrients including vitamin C, potassium, and copper. "All you really need is a gorgeous kale recipe, and you're good to go!" Weiss says. Try these beginner-friendly kale tips and recipe ideas:
Find it. "The trend toward eating locally grown, seasonal produce, has made kale easier to find," Weiss says. Sure, your local farmers' market is a good bet, but if it's shuttered for the season or you don't have the time to make multiple shopping stops, just drop in your usual grocery store. You may not have noticed it, but it's probably there next to the leaf lettuce in the produce section.
Know your options. Weiss says there are three varieties—curly, ornamental, and dinosaur—and certain varieties are better suited to certain recipes. "I love using dinosaur kale for kale chips," she says. "I sauté curly and ornamental for a side dish, or I add them to soups and pasta dishes."
Give it a rub down. "Kale is fibrous," Weiss says. "It does not cook up as quickly as delicate greens like spinach. For kids, it's important to cook until tender." You can speed the process by giving your greens a massage. Strange as it may sound, kale has is a tough leaf and a little extra TLC can really tenderize it. The process is simple: Wash and dry your kale, remove the tough stem, chop or tear the leaves into bite-size pieces, put them in bowl with a bit of olive oil or lemon juice, and rub until they're noticeably softer and the color becomes brighter, about 3 to 5 minutes. From there, you can make a raw kale salad with the massaged leaves or add them to a recipe.
Take a shortcut. Still not sure what to do with kale? Try beginner-friendly kale products. The veggie has become so popular that some companies now wash, trim, and package kale so it's easier to use. "Just open a bag," Weiss says. "No muss. No fuss." Also look for it chopped and frozen, just like spinach, in the freezer section. At a store like Trader Joe's, you can find it incorporated into a frozen food products, such as kale and spinach pie and frozen spinach and kale cheese balls. The options are endless!